Advertising/Traffic/Billing Inquiries
Contact the 99Rock WFRD-FM Business Lines
Monday – Friday 8am – 5pm (603)-646-3313
or Heath & Chris directly at:
Heath Cole  (603)-646-3826
Heath.M.Cole@Dartmouth.EDU
Chris Garrett  (603)-646-0078
CG99@Dartmouth.EDU
99Rock WFRD-FM Management Team 2019-2020
Director of Dartmouth Broadcasting: Heath Cole (Heath.M.Cole@Dartmouth.edu)
DB General Manager: Connor Turner (Connor.B.Turner.20@Dartmouth.edu)
DB Summer General Manager: tba
FRD Program Director: James King (James.King.21@Dartmouth.edu)
DCR Program Director:  Christopher Cartwright (Christopher.Cartwright.21@dartmouth.edu)
DCR Assistant Program Director: Elisabeth Sanson (Elisabeth.M.Sanson.20@Dartmouth.edu)
DCR Music Director: Christopher Damon (Christopher.J.Damon.22@Dartmouth.edu)
DCR Marketing Director: Laurel Dernbach (Laurel.K.Dernbach.22@Dartmouth.edu)
DSN Sports Director: Osezele "O" Okoruwa (Osezele.D.Okoruwa.22@Dartmouth.edu)
DB News Director: Lila Watts (Lila.K.Watts.22@Dartmouth.edu)
DB Technical Production Director: Edward Buckser (Edward.J.Buckser.21@Dartmouth.edu)
DB Alumni Relations Director: Thomas Bosworth (Thomas.R.Bosworth.22@Dartmouth.edu)
Phone/Fax
Request Line: (603)-643-ROCK (7625)
Business Lines: (603)-646-0078 / (603)-646-3313
Fax Line: (603)-643-ROLL (7655)
Mailing Address
99Rock WFRD-FM
6176 Robinson Hall, Dartmouth College
Hanover, NH 03755
Studio Location
99Rock WFRD-FM
3rd Floor Robinson Hall, Dartmouth College
Hanover, NH 03755
News Department
Do you have a News Story you would like us to cover?
Contact 99Rock at  Valley.Voices@Dartmouth.edu
TO CONNECT TO OUR SISTER STATION WDCR ONLINE AT WEBDCR.COM
TO CONNECT TO THE OFFICE OF COMMUNICATIONS AT DARTMOUTH COLLEGE
TO BOOK ISDN STUDIO TIME CONNECT TO RADIO AND TV AT DARTMOUTH COLLEGE
TO CONNECT TO DART-ALERT/DARTMOUTH EMERGENCY PREPAREDNESS
---
99Rock WFRD-FM Map & Driving Directions:
99 ROCK WFRD-FM Robinson Hall, Dartmouth College, Hanover NH, 03755
1.)  Take I-91, to Exit 13 Norwich VT.
2.)  Head towards Hanover NH.
3.)  Go Straight through the traffic light, the Hanover Inn will be on your right.
4.)  Take the next left (one way) and proceed around the Green.
5.)  Take the next 2 lefts, as you head around the Green onto North Main Street.
6.)  Stay in the right lane, and take your first Right, Cemetery Lane.
7.)  Robinson Hall will be on your left.  99Rock is on the 3rd Floor.
8.)  Elevator Access is in the back of the building.
---
99Rock WFRD-FM Coverage Map/Technical Information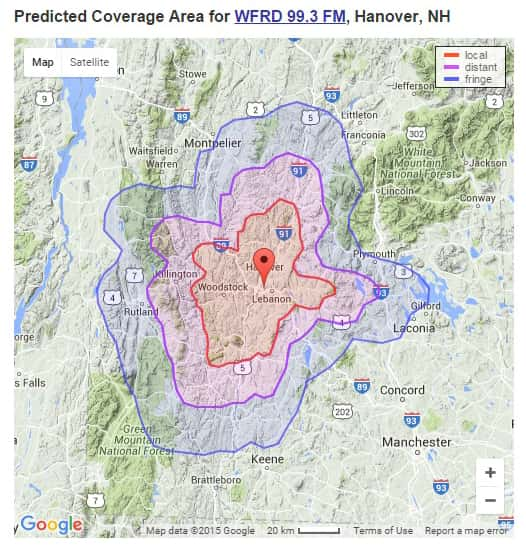 WFRD-FM Technical Info:
| | |
| --- | --- |
| Station Status | Licensed Class A FM Station |
| Effective Radiated Power | 6000 Watts |
| Height above Avg. Terrain | 100 meters (328 feet) |
| Height above Ground Level | 45 meters (148 feet) |
| Height above Sea Level | 374 meters (1227 feet) |
| Antenna Pattern | Non-Directional |
Dartmouth Broadcasting is an equal opportunity employer. As we employ less than 5 full-time staff, we are, however, exempt from reporting requirements.