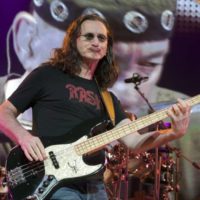 A recent teaser video from game maker Stern Pinball revealed that a Rush pinball machine is on the way.  In the teaser, Rush titles including "Bastille Day," "Fly by Night," "Limelight" and "Working Man" appear onscreen, indicating the songs that will likely be used in the game.  Stern Pinball is related to the 1970s and '80s electronic game outfit Stern Electronics and has previously issued pinball machines based on bands such as AC/DC, Iron Maiden, KISS, Led Zeppelin and Metallica, as well as games for movies, TV and more.
Rush, who formed in 1968 and released 19 studio albums during their time together, stopped performing in 2018. Drummer Neil Peart died from brain cancer two years later.
Watch the video teaser for the Rush pinball machine – here.
Editorial credit: Harmony Gerber / Shutterstock.com