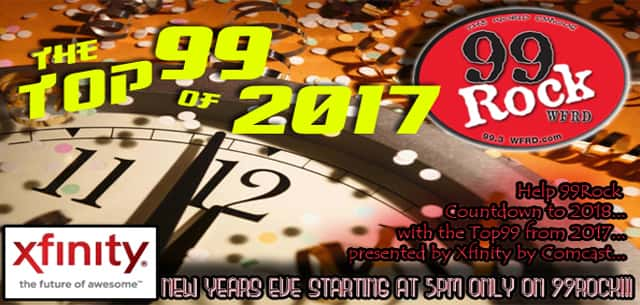 MISSED THE LIST.  We've got it here, counting down to the new year, with our biggest songs from 2017! 
Starting New Years EVE at 5pm with our very own Matt Taylor!
Find out where all your favorite new songs, and our most played from 2017 landed, and what song made it to the Number 1.  
Presented by Xfinity by Comcast! 
New Year's Eve at 5 till Midnight on the World Famous 99Rock and right here at WFRD dot com!
| | | |
| --- | --- | --- |
| | ARTIST | TITLE |
| | | |
| 1 | Fozzy | Judas |
| 2 | Stone Sour | Song #3 |
| 3 | Volbeat | Black Rose |
| 4 | Nothing More | Go To War |
| 5 | Royal Blood | Lights Out |
| 6 | Metallica | Now That We're Dead |
| 7 | Rise Against | The Violence |
| 8 | Papa Roach | Help |
| 9 | Skillet | Back From The Dead |
| 10 | Seether | Let You Down |
| 11 | Papa Roach | American Dreams |
| 12 | Highly Suspect | Little One |
| 13 | Blacktop Mojo | Where The Wind Blows |
| 14 | Theory of a Deadman | Rx |
| 15 | Hellyeah | Love Falls |
| 16 | Greta Van Fleet | Highway Tune |
| 17 | In This Moment | Oh Lord |
| 18 | I Prevail | Alone |
| 19 | All That Remains | Madness |
| 20 | Incubus | Nimble Bastard |
| 21 | Mastodon | Show Yourself |
| 22 | Avatar | New Land |
| 23 | Manafest | House Of Cards |
| 24 | Seether | Betray And Degrade |
| 25 | Pretty Reckless | Oh My God |
| 26 | Avenged Sevenfold | God Damn |
| 27 | Motionless In White | Loud (F**k It) |
| 28 | Foo Fighters | The Sky Is A Neighborhood |
| 29 | A Day To Remember | Bullfight |
| 30 | Korn | Black Is The Soul |
| 31 | Green Day | Revolution Radio |
| 32 | DED | Anti-Everything |
| 33 | Righteous Vendetta | Weight Of the World |
| 34 | Starset | Satellite |
| 35 | Alter Bridge | My Champion |
| 36 | Queens Of The Stone Age | The Way You Used To Do |
| 37 | Nickelback | Feed The Machine |
| 38 | Foo Fighters | Run |
| 39 | A Killer's Confession | Rebirth |
| 40 | Chrysalis | Out of My Hands |
| 41 | Shallow Side | Can You Hear Me |
| 42 | Bleeker | Highway |
| 43 | Motograter | Dorian |
| 44 | The Pretty Reckless ft. Warren Haynes | Back To The River |
| 45 | Kirra | Downfall |
| 46 | Starset | Monster |
| 47 | Skillet | The Resistance |
| 48 | Demon Hunter | Raining Down |
| 49 | Kobra & The Lotus | Light Me Up |
| 50 | Through Fire | Breathe |
| 51 | Manafest | Stones |
| 52 | Radkey | Dark Black Makeup |
| 53 | Beartooth | Sick Of Me |
| 54 | Message From Sylvia | Right Here And Now |
| 55 | Adelitas Way | Ready For War (Pray For Peace) |
| 56 | 10 Years | Novacaine |
| 57 | Sixx: AM | We Will Not Go Quietly |
| 58 | As Lions | Aftermath |
| 59 | Nine Inch Nails | Less Than |
| 60 | Random Hero | Impossible |
| 61 | Into The Fire | From The Medicine |
| 62 | Youth in Revolt | Don't Wait For Me |
| 63 | Stitched Up Heart | Catch Me When I Fall |
| 64 | Kaleido | Die Tryin' |
| 65 | Disciple | Spinning |
| 66 | Marilyn Manson | Kill4me |
| 67 | Chevelle | Rivers |
| 68 | Letters From The Fire | Worth The Pain |
| 69 | Red | Still Alive |
| 70 | Halestorm | Still Of The Night |
| 71 | Stone Sour | Rose Red Violent Blue (This Song Is Dumb & So Am I) |
| 72 | Prophets Of Rage | Living On The 110 |
| 73 | Black Stone Cherry | Cheaper To Drink Alone |
| 74 | Vajra | The Mirror |
| 75 | Kirra | My Disease |
| 76 | Mastodon | Steambreather |
| 77 | The Wild! | Livin' Free |
| 78 | Through Fire | Where You Lie |
| 79 | Silvertung | You & Me |
| 80 | Art Of Anarchy | Echo Of A Scream |
| 81 | The Dukes | Black Hole Love |
| 82 | Granny 4 Barrel | Freak Flag |
| 83 | DED | Remember The Enemy |
| 84 | Chevelle | Door To Door Cannibals |
| 85 | Deadset Society | Living In A Nightmare |
| 86 | Godsmack | Come Together |
| 87 | Them Evils | She Got Nothin' |
| 88 | Citizen Zero | Lure And Persuade |
| 89 | Royal Blood | I Only Lie When I Love You |
| 90 | Ghost | Square Hammer |
| 91 | Thirty Seconds To Mars | Walk On Water |
| 92 | Falling In Reverse | Superhero |
| 93 | Shaman's Harvest | The Come Up |
| 94 | Dollskin | Daughter |
| 95 | Flaw | Fatal Fall |
| 96 | Never Say Die | Like A Nightmare |
| 97 | Trivium | The Heart From Your Hate |
| 98 | Breaking Benjamin | Never Again |
| 99 | September Mourning | 20 Below |