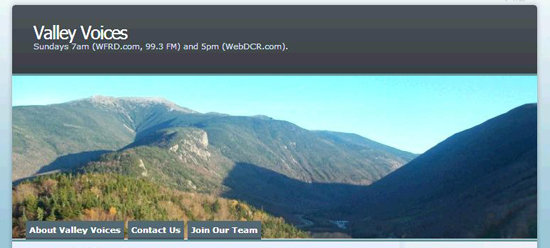 99Rock's Public Affairs Show –
Sunday Mornings on 99Rock!
Valley Voices is an arts and public affairs program that features diverse perspectives from the Upper Valley. Guests on the show have included food critic Ruth Reichl, Native American novelist Louise Erdrich, and presidential candidate Ron Paul. The program airs on Sundays at 7:00 am (WFRD, 99.3 FM) and 5:00 pm (WebDCR.com).
Click Here to find past Valley Voices podcasts and more.

Producer and host Liz Faiella is recent graduate of Dartmouth College. She has interned with WNYC's and Public Radio International's arts and culture program Studio 360, NHPR's public affairs program The Exchange, and NHPTV's New Hampshire Outlook.
Contributors:
Naomi Elias is a member of Dartmouth's class of 2013. She is a Comparative Literature major and former intern at Amnesty International USA. She is a travel blogger and global health reporter whose work has been featured in Standpoint Magazine.
Chelsea Lim
Carene Mekertichyan
Mick Zloof