DSN: Dartmouth Sports Network Programming on WebDCR.com and on 99Rock.
The Big Green Scene – on (WebDCR.com) and weekends right here on (99Rock)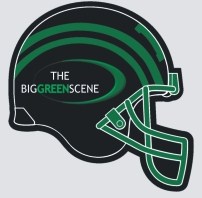 Stay up to date with all our archived shows below.
Fall Week 8: On our last show of the term we caught up with co-captains of the Women's Ice Hockey Team Reagan Fischer '13 and Jenna Hobeika '13 to talk about the team's goals for the season. Also, captain of the Men's Basketball Team, Jvonte Brooks '15, speaks with us ahead of the team's opener this Saturday. Plus, highlights from the Men's Hockey home games last weekend and a preview of their competition in the Ivy League.
Fall Week 7: This week on the scene: Captain of the Men's Rugby Team, Michael Burbank '13, joins us to talk about the team's fall season and their goals for the year. Also, on a special Alumni Connection segment, former Big Green tennis star Michael Laser '12 calls in from Israel to discuss his ongoing goal to join the professional Tennis circuit. Plus, a recap of all the action from Homecoming last weekend.
Fall Week 6: This week on the scene: Senior Lightweight Crew member Josh Konieczny '13 comes by the studio to talk about the Head of the Charles last weekend and the rest of the team's training this fall. We also had a chance to catch up with star Equestrian rider Alexa Dixon '15 ahead of the Dartmouth Invitational this weekend. Plus, highlights from the Big Green Football team's win over Columbia and a preview of the upcoming NBA Season.
Fall Week 5: This week on the scene we were lucky enough to talk with Big Green Men's Ice Hockey Coach Bob Gaudet about their upcoming season which starts this weekend. Plus, a special report on what the Baseball and Women's Lacrosse teams have been doing during their off-season. And also a Scene staple, the Big Green Scoreboard recapping all the action in Dartmouth's sports the past weekend.
Fall Week 4: This week on the scene, field hockey co-captain Maya Herm '13 talks about the team's impressive winning ways as of late and star cross country runner Will Geoghegan '14 joins us to talk about his strong season thus far. Plus, our experts bring you an NFL mid-season report and highlights of the Big Green's football game versus Yale last weekend.
Fall Week 3: This week on the scene, Dartmouth Soccer striker Alex Adelabu '15 joins us to talk his great start to the year and how the team is approaching the Ivy League season. Plus, tri-Captain of the Big Green Football team Patrick Lahey '12 talks about his nomination for the prestigious Campbell Trophy and the team's matchup with Yale this weekend. Also, we bring you highlights of the football game versus Penn last weekend and our experts' insights on the upcoming MLB playoffs.
Fall Week 2: Dartmouth Tennis Co-Captain Mike Jacobs '13 sits down with us to talk about the team's tournament in New York last weekend. Also, Big Green Volleyball star Elisa Scudder '14 talks about her hot start this season and the beginning of Ivy League play. Plus, previews of the upcoming Football and Men's Soccer Ivy League seasons.
Fall Week 1: Dartmouth Women's Soccer Captain Emma Brush '13 sits down with us to talk about the team's hot start and their outlook on the new season. Also,  Cross Country and Track star Abbey D'Agostino '14 recounts her incredible experience at the Olympic Trials this summer and her goals for this year. Plus Highlights from Dartmouth's Football home opener and a report on what you missed over the summer break.
DSN AWARDS: This week on the Scene: It's the First Annual DSN Awards Show on the Dartmouth Sports Network! Join us as we honor the best teams, players and moments from the 2010-2011 Big Green Athletic Season. We'll present the nominees for Best Male Athlete, Best Female Athlete, Best Freshman, Best Game and Best Team and YOU decide who wins!
Spring Week 7: This week on the Scene: We're joined by Junior Shortstop Joe Sclafani and Junior Ace Pitcher Kyle Hendricks to recap the baseball season and to talk about their MLB Draft prospects. Also, the Scene's own Chris Zhao sits down with Women's Lacrosse Coach Amy Patton before the team's NCAA Tournament game on Sunday. Plus Crew and Track Coverage.
SPECIAL EDITION: This week on the Scene: Exclusive Big Green Football Coverage. Captains Tim McManus and Shawn Abuhoff join us in the studio to talk about their hopes for next season. Also, offensive coordinator Keith Clark sits down with us to talk about the state of the offense, and veteran sportswriter Bruce Wood gives us his take on the 2011 team.
Spring Week 5: This week on the Scene: We're joined by the senior captains of the Ivy League Champion Women's Tennis Team: Molly Scott, Georgiana Smyser and Ryan Reichel. Also, two-time Ivy League Golf Champion Peter Williamson stops by to talk about his most recent victory at Galloway National Golf Club. Plus mid-season reports for all your Big Green Teams.
Spring Week 4: This week on the Scene: Hamilton Bulldogs (AHL) Defenseman Joe Stejskal '11 calls in to talk Hockey, Dartmouth, and Life in the Pros. Also, we're joined by Coach Andy Towers to talk about the progress and prospects of the Men's Lacrosse Team. Plus an NBA/NHL Playoff Preview with Shane O'Neal and Charlie Hetke.
Spring Week 3: We sit down with Olympic Gold Medalist Hannah Kearney '15, and speak with Senior Lacrosse Captains Kat Collins and Shannie MacKenzie about their big game in Philadelphia this weekend.
Spring Week 2: This week on the Scene: Part II of an exclusive interview with Head Baseball Coach Bob Whalen, an interview with LA Galaxy midfielder Dan Keat '10, and an MLB preview with Jeff Portnoy and Shane O'Neal.
Spring Week 1: This week on the Scene: Part I of an exclusive interview with Head Baseball Coach Bob Whalen, an Ivy League Tennis Preview w/ Sophomore Player Alex de Chatellus, and "What You Missed" w/ David Jiang (and bonus hockey commentary!)