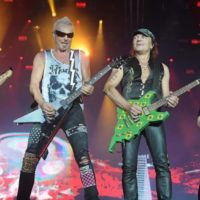 Scorpions have revealed that their new single, "Rock Believer", will be released on Thursday, January 13 at 7:00 a.m. PT / 10:00 a.m. ET.  "Rock Believer" is the title track from the band's 19th studio album, which will be released on February 25.
Scorpions released the official music video for Rock Believer's first single, "Peacemaker," about two months ago.  When asked in a recent interview what fans can expect to hear on "Rock Believer", singer Klaus Meine said: "Well, you can expect an album that is dedicated to all the rock believers in the world. And we're very excited after all these years. We thought, when you think about all the touring we did the last 10 years, after the release of Return To Forever in 2015, the time was right to go back into the studio, to write new material, to write new songs and check out if the creativity is still working. The big aim was, the goal was to make a rock album — to make an album with lots of attitude, power and focus on the good old times and really enjoy the music and have some fun with the music. And that feels really good."
To pre-order Rock Believer head here.
Editorial credit: A.PAES / Shutterstock.com