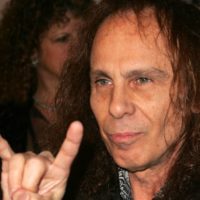 Wendy Dio, widow and longtime manager of Ronnie James Dio, has revealed details about the upcoming documentary on the life and times of her husband.  The film is the first documentary to be fully authorized by Dio's estate.
Said Wendy: "It's coming out [later this] year. I [recently] saw the first cut of it. It was very emotional. It's very different from [Dio's autobiography]. 'Cause the book finishes in 1986, with Ronnie playing Madison Square Garden. But the documentary goes all the way through his life till the end. And it was very emotional. We all cried. It was very emotional. But it's really interesting and really good. Rob Halford is great in it, talking about stories. Lita Ford [and] Jack Black [are also in it]. Eddie Trunk [SiriusXM radio personality] and Mick Wall [author of Dio's autobiography] both kind of narrated it and everything. I'm very pleased with it. I don't know exactly when it's gonna come out [this] year, but it'll be out [this] year."
Ronnie James Dio passed away of stomach cancer on May 16, 2010 at the age of 67. He was considered one of the greatest and most influential vocalists in heavy metal history. Dio was recording and touring with Black Sabbath's offshoot 'Heaven & Hell' prior to his illness; he was diagnosed with stomach cancer in late 2009. Dio underwent chemotherapy and made what is now his final public appearance in April 2010 at the Revolver Golden Gods Awards in Los Angeles.
Editorial credit: s_bukley / Shutterstock.com