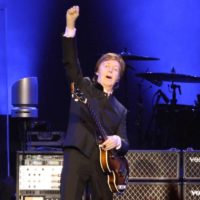 Paul McCartney just released his psychedelic video Find My Way (feat. Beck), co-produced by Hyperreal Digital, which specializes in the creation of hyper-realistic digital avatars. You can watch the video for Find My Way (feat. Beck) – HERE.
Find My Way (feat. Beck) is the opening track of III Imagined, which was released on vinyl, CD, and cassette via Capitol Records; the album is also available digitally. Personally curated by Paul, McCartney III Imagined features an eclectic all-star lineup featuring Damon Albarn, Anderson .Paak, Blood Orange, Phoebe Bridgers, EOB, Dominic Fike, Josh Homme, Khruangbin, St. Vincent, and 3D RDN of Massive Attack, each covering and/or reimagining their favorite moments from Paul's acclaimed McCartney III album in their own signature styles.
Physical editions of McCartney III Imagined will include the exclusive bonus track "Long Tailed Winter Bird (Idris Elba Remix)." Click here to pre-order physical editions of 'McCartney III Imagined'.
Editorial credit: Mazur Travel / Shutterstock.com