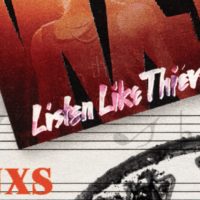 The INXS' 1991 concert film Live Baby Live captured one of the band's largest performances as they played a sold-out Wembley Stadium in London to over 72,000 fans. The film was restored from the original 35mm recording into a remastered widescreen 4K Ultra HD version and was shown in theaters across the world late in 2019.
Now the band has announced the release of the remastered version of the movie on home media, available in a variety of formats including digital download, 4K Ultra High Definition Blu-ray, Blu-ray, and DVD. The non-digital formats come with a variety of goods including 4K-sourced photos from the concert, new liner notes from the band, an essay by British TV broadcaster Jamie East, and a poster from the Australian release of the film.
The film will be released on June 26th, but is available for pre-order at the link here.
Editorial credit: Sergey Goryachev / Shutterstock.com