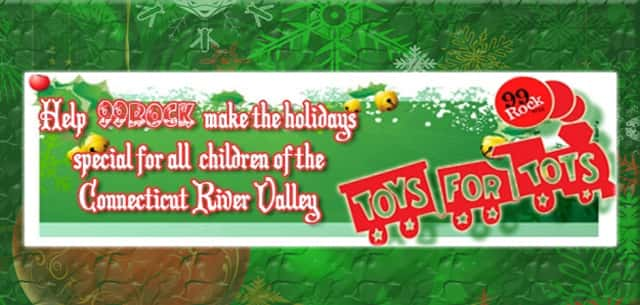 99Rock is back and once again the Official Radio Station for Toys for Tots in the Valley for 2020!
Obviously, things will be a little different due to the COVID-19 Pandemic this year, but the mission of Toys For Tots will remian the same! Please refer to the information below, and we will keep you updated all throughout the holiday season here, and on the air with updates, drop-box locations, and more!
Happy Holidays!
WE ARE WORKING TO SET UP IN THE LOCATION NEXT TO HUBERT'S ON THE MIRACLE MILE IN LEBANON, NH. OPENING DAY WILL BE MONDAY, NOVEMBER 23. PLEASE CONTINUE TO CHECK THIS PAGE FOR UPDATES. PHONE NUMBER WILL BE PROVIDED AS SOON AS WE GET ONE. PLEASE CALL US SO WE CAN TELL YOU IF WE ARE OPEN AND HOW BUSY WE ARE.
COVID-19 RESTRICTIONS THAT MUST BE FOLLOWED TO PROTECT THE VOLUNTEERS WORKING AT THE SITE
1. DO NOT COME TO THE DISTRIBUTION SITE IF YOU ARE NOT FEELING WELL, COUGHING OR UNSURE IF YOU MIGHT BE ILL.
2.THERE IS A LIMIT OF FIVE PEOPLE INSIDE THE DISTRIBUTION SITE AT A TIME TO PICK OUT GIFTS.  STAY SIX FEET AWAY FROM OTHERS PICKING OUT GIFTS. YOU MAY HAVE TO WAIT OUTSIDE OR IN YOUR CAR FOR YOUR TURN.
3. BRING AND WEAR YOUR MASK AT ALL TIMES INSIDE THE DISTRIBUTION SITE.
4. YOU WILL SANITIZE YOUR HANDS UPON ARRIVAL, (SANITIZER PROVIDED),  BEFORE HANDLING ANY TOYS AT THE SITE.
5. PLEASE PICK OUT YOUR TOYS WITHOUT DELAY: (NO LONGER THAN 15 MINUTES.)  NO LINGERING INSIDE THE DISTRIBUTION SITE.
6. PARENTS AND CUSTODIAL PARENTS WILL PICK OUT TWO LARGE TOYS FOR AND ONE BOOK PER PRE-TEEN. ONE PUZZLE AND ONE GAME PER FAMILY. ONE GIFT FOR TEENAGERS THIRTEEN AND ABOVE. TALK TO THE STAFF ABOUT SPECIAL NEEDS CHILDREN.
6. NON-CUSTODIAL PARENTS AND GRANDPARENTS WILL BE ALLOWED TO PICK OUT ONE TOY PER CHILD.
6. YOU WILL BE CHECKED OUT AFTER PICKING OUT YOUR TOYS. BRING YOUR OWN BAG OR BOX TO BRING HOME YOUR TOYS.
HOURS
MON. 9:00AM – 5:00 PM
TUES. 9:00AM – 5:00PM
WED. 9:00AM – 5:00PM
THURS.9:00AM – 5:00PM
FRI.9:00AM – 5:00PM
SAT. 10:00AM – 5:00PM
CLOSED SUNDAYS
CLOSED FOR THANKSGIVING
CLOSED ON CHRISTMAS
*THURSDAY, DEC. 24TH, THE DOORS WILL CLOSE AT 2:00 PM AND THE PROGRAM CLOSES FOR THE YEAR.
THE MARINES AND VOLUNTEERS LOOK FORWARD TO HELPING YOU TO ENJOY A VERY MERRY CHRISTMAS !!