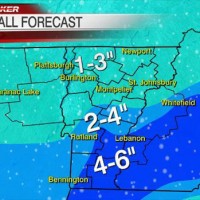 99Rock Fox44 ABC22 SkyTracker Weather:
Storm Details as of now at 99Rock and Online here at WFRD.com !
Courtesy Fox44/ABC22 Meteorologist Steve Glazier.
"Hi all! Snow flurries/showers have begun and they will continue through about 9 p.m. tonight. Here's a look at how much to expect! It will be a fluffy snow and blowing around via gusty winds to 30 mph at times!" -Steve
UPDATE: 18:57 EST
Another snowy day across the North Country with light snowfall of a dusting-2" for northern NY and northern VT, but 2-5" for many in the central mountains, as well as southern VT and the Upper Valley. Farther east, in NH, some places picked up a fresh foot of snow.
Shall we do it again? Sure. We will manage another light coating of snow Wednesday, mostly across southern VT and the hills as a small system passes south of New England, just like today. The difference? Not as much moisture, and temps will be slightly warmer. So, snow accumulation Wednesday should be very light, a dusting-1" north, 1-3" south with most in the southern VT mountains.
Thursday looks nice! Sunshine with temps in the upper 30s to around 40. As our next storm system churns to our northwest Friday, our area will see much warmer and windy conditions for the end of the week. A briefl period of snow or freezing rain Thursday night will turn to period of rain Friday with temps around 40-46 degrees!
We'll dry out briefly Saturday with temps still hovering the low 40s. Snow showers and colder weather returns by Sunday. Next week looks seasonably cold with temps in the 20s for most. more…
Sincerely,
Chief Meteorologist Kerrin Jeromin