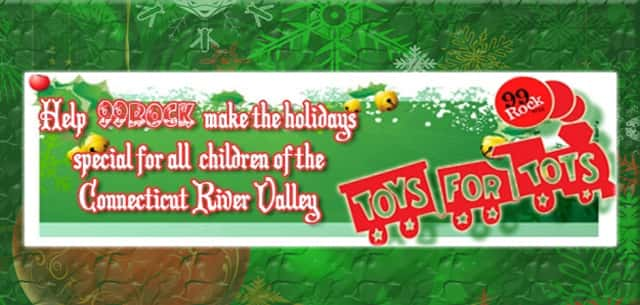 Once again this Holiday Season you can help 99Rock and the Twin State Detachment of the Marine Corps League!
It's Toys For Tots, and 99Rock is once again the official radio station in the Valley doing our part to help kids in need locally.
Keep It Locked to catch Street Team Live, and where you can give with Toys For Tots!
2017 Local Upper Valley Locations:
LEBANON/WEST LEBANON
Hypertherm (All Locations)
Nature Calls
Country Kids
McLaughry Real Estate
Walgreens
CVS
AmComm Wireless
Hannaford
Radio Shack
Midas
Mascoma Savings Bank, Route 120 and On the Green
Jake's Market, Mechanic Street
Woodlands Credit Union, Heater Road
Timken Aerospace
DHMC Childcare Center
RVC
Co-op Food Store, Centerra
Keene Medical, Route 120
Lebanon Recreation Department
CCBA
Lake Sunapee Bank, Heater Road, and Centerra
Spectra/Dimatix Etna Road
Dartmouth Mail Room Centerra
Shell Food Mart, Hanover St. Lebanon
Granite State Harley
Ciofreddi and Associates
Wilson Tire
Entertainment Cinemas
Family Dollar, Miracle Mile
DHMC Dining Hallway Annex
Meriden Deli Mart
Service Credit Union, Mechanic Street
Montessori School, School Street
DHMC Rehab Center, Heater Road
Dunkin Donuts/Subway Hanover St.
Stone Arch Bakery, Hanover St.
GRANTHAM/NEWPORT
Aubuchon Hardware
Lake Sunapee Bank, Route 10 and Main Street locations
Sugar River Bank, Route 10
Dunkin Donuts, Route 10
Rum Brook Market Route 10
Grantham Fire Department
Grantham Town Hall
NAPA, Sunapee St.
Mt. Sunapee Ski Area
General Dollar
ENFIELD/CANAAN
Mascoma Savings Bank, Enfield, and Canaan
Enfield House Of Pizza
Lake Sunapee Savings Bank
Canaan Elementary School
Indian River School
Mascoma High School
Enfield Elementary School
Canaan Hardware
FAIRLEE/THETFORD/BRADFORD/LYME
KDD Auto NAPA
Chapman's Store
Mascoma Savings Bank, Chelsea, VT, and Lyme, NH
Merchant's Bank, E. Thetford
Wells River Savings Bank, E. Thetford and Fairlee
Bakers Store, Post Mills
Orange County Sheriff's Department
Aubuchon Hardware, Bradford
Kinney Drugs, Bradford
Lakeside Auto, Fairlee
Hills 5 And 10, Bradford
WOODSTOCK/QUECHEE
Coldwell Banker, Quechee
Simon Pearce, Quechee, and Hartford
Shell Station Quechee
Maplefields, Woodstock
Mascoma Savings Bank, Woodstock
Quechee Country Club
VINS, Route 4 Quechee
Dead River Propane, Woodstock
WINDSOR/HARTLAND
Mount Ascutney Market
North Hartland Tool Corporation
14 Evarts Road
Mr. G's
Mascoma Savings Bank, Windsor, and Hartland
Windsor Fire Department
American Legion Post 25
Windsor Resource Center
Simon Pearce
Windsor Police Department
Members Advantage Credit Union
Back Forty Guns And Ammo
White River Junction
West Hartford Village Store
Members Advantage Credit Union
White River Toyota
Mascoma Savings Bank, Sykes Avenue, and Maple St.
Crossroads Café
Merchants Bank
Vermont VA
Kinney Pike Insurance
Wave Reviews Salon
Lake Sunapee Bank
The Short Stop
Citizens Bank
Green's Oil
RANDOLPH
Dollar General
Family Dollar
Belmans General Store
Sharon Trading Post
McCulloughs Quick Stop
Fisher Auto Parts
Randolph Auto & Truck Supply
Al's Pizzeria
Kinney Drugs
WELLS RIVER/WOODSVILLE
Walmart
Newbury Elementary School
Wells River Pharmacy
White Mountain Pharmacy (Lisbon)
Wells River Chevrolet
Grafton County Nursing Home
Dead River Propane
Haverhill Recreation Department
Antique Rose (Florist)
Newbury Village Store
Woodsville High School
CLAREMONT
Claremont Cycle Depot
Kiwanis Cares
Coldwell Banker, Washington St.
Big Lots
UPS Store
Market Basket
AmComm Wireless
Claremont Ford
The Common Man Inn and Restaurant
Red River Computer 5th floor above Common Man
Crickets NAPA
Dr. Houde's office
Claremont Fire Department
Man Cave Consignments
Bergeron's Houses to Homes
Century 21 Highview Realty
Haynes Real Estate
Town And Country Realty and Associates
HANOVER/NORWICH
Coldwell Banker, Hanover
Mascoma Savings Bank, Hanover, and Norwich
Tuck School of Business
Hanover Co-Op and Co-Op food Store on Lyme Road
The Car Store
Hanover Tru-Value
Richmond Middle School
Lang McLaughry Spera, Hanover, and Norwich
Norwich Inn