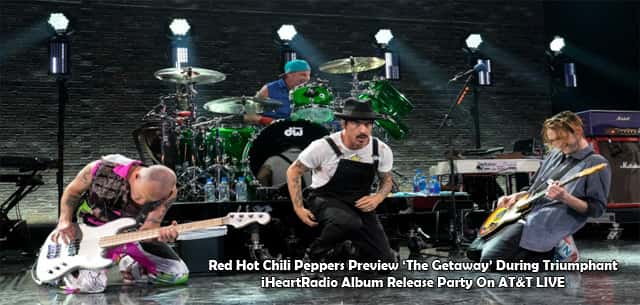 Red Hot Chili Peppers Preview 'The Getaway' During Triumphant iHeartRadio Album Release Party On AT&T LIVE
It's been five years since the release of the last studio album from the Red Hot Chili Peppers, but the foursome is back on the scene with their new LP, The Getaway. In promotion for the forthcoming album, Anthony Kiedis and the gang previewed brand-new cuts off the project (as well as some fan favorites) during their triumphant iHeartRadio Album Release Party on AT&T LIVE on Thursday night (May 26).
Venturing through their lengthy catalogue, the RHCP rocked the 10-song set with hits like "Snow," "Otherside" and "By The Way" after kicking off the 90-minute event with their 2003 smash "Can't Stop." Still, this was promotion for The Getaway, so they made sure to preview plenty of cuts from the new album, which is due June 17 via. Warner Bros. Records, including lead single "Dark Necessities," "Sick Love," the energetic "This Ticonderoga" and second single "Go Robot."
Watch Red Hot Chili Peppers Perform "Dark Necessities"
 

"I feel like all of the weirdness that we went through as a band and as individuals led to what our record is," lead singer Anthony revealed during a Q&A portion of the show. "Whether it was Flea shattering his elbow or not being able to find a producer or writing songs that didn't end up getting used or all these weird emotional and physical occurrences, it all worked out for us. In the end, I'm glad that all that difficult stuff happened because we like what we got."
For The Getaway, the band decided to collaborate with Danger Mouse. Drummer Chad Smith elaborated on the need to change up the formula and elevate their music to the next level.
"We've known him for a long time. . . .This time we felt it's time for a change and to shake it up," he said of their decision to partner with the super-producer. "We've been a band together for 94 years now and, you know, it was time to grow and change."
[Download the Red Hot Chili Peppers' The Getaway]
During another portion of the Q&A, the band also spoke about Elton John's surprising appearance on the piano of "Sick Love," which the band called nothing short of a casual collaboration.
"It was like hanging out with your friend, who's a part of the honored British empire," guitarist Josh Klinghoffer told the crowd. Chad Smith said, "As soon as he sat down and played the piano, it's just Elton John. He's one of those amazing musician. . . .We're happy to have him on."
Watch Red Hot Chili Peppers Perform "Can't Stop"
 

Photo: Jeremy Harris for iHeartRadio